Animals and Humane Farming: Pigs
By: Philip LEE Braithwaite Andreae
March, 1999
Class Purcell 7B ISB - Brussels Belgium
TABLE OF CONTENTS *
THE DOMESTIC PIG *
HOW THEY ARE KEPT *
HOW THEY ARE SLAUGHTERED *
Words Pig Farmers Use and Their Definitions *
WORKS CITED LIST *
The Pig is the most frequently farmed animal in the world (www.atbeach.com). It is often kept in confined spaces. Slaughter of pigs can be a very cruel process because killing methods are not always effective. Humane farming of pigs is done in only some cases and humane slaughter rarely occurs. Humans want only the money and seldom seem to care about how the animals feel or suffer before they die.
"The pig is a cloven footed snout-nosed mammal" (Grolier Multimedia Encyclopaedia: Pig). It is estimated that there are more than 700 million domestic pigs worldwide. The domestic pig can be found all around the world but it is mostly found around Eurasia. "The domestic pig was introduced into the Americas by Christopher Columbus when he discovered them (the Americas)," (Encarta '98 : Pigs). according to Encarta '98:Animal Husbandry: Pigs, It is estimated that the pig was domesticated 9,000 years ago by the Romans.
Pigs are kept in confined metal-slatted stalls where no moving space exists and you can imagine what happens when the poor sows have their litters, so this has given them the nickname "iron maidens" like this one below.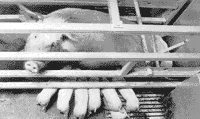 The cages pigs are kept in are named battery cages. In these confined stalls the poor animals suffer immensely. Often this makes them go mad so they just start to chew everything in sight, even the cages that hold them.
The farmers have developed different methods of maintaining hygiene and identification to use when each piglet is born. These I have listed below (from www.meatstinks.com) :
Castration: Castration is crudely performed by incisions into the scrotum after which the testicle is pulled out manually. This painful process is controversial, however, as many researchers view it as a waste of time and effort -– not to mention the agony to the piglet.
Ear notching: The piglet's ears are tagged, cut, and sliced for identification purposes, ensuring that each pig is treated as a number rather than a living being.
Tail docking: Piglets have their tails cut off "1/4 to 1/2 inch from the body" to, supposedly, prevent future tail-biting behaviour. Research shows that pigs will engage in ear chewing more frequently if their tails have been docked.
Teeth clipping: The piglet's eight incisor teeth are cut off "by using side-cutting pliers or toenail clippers" to prevent aggressive behaviour and chewing.
Pigs are slaughtered in a very cruel way. They are first stunned with an electric power gun, but lots of the time the voltage is too low, because the farmers say that when the voltage is too high it ruins the meat's appearance as it bursts the blood vessels in the muscle tissue. So the poor animals are sometimes still fully conscious while they are being skinned and sawed apart.
Words Pig Farmers Use and Their Definitions
(According to www.meatstinks.com)
Barrow: Any male pig that that has been castrated.
Boar: Any noncastrated male pig, usually used for breeding purposes.
Farrow: To give birth to piglets.
Farrowing stall or Gestation stall: A small metal enclosure, approximately 2 feet by 6 feet, where a sow will be tethered or otherwise restrained so that her piglets can suckle. They will remain in the stall until weaned. Also known as a farrowing or gestation crate.
Feed efficiency: The amount of feed a pig requires to gain one unit in weight.
Feeder pig: Any pig weighing between approximately 50 and 90 pounds.
Finish: To raise a pig so that he or she weighs about 250 pounds and is ready for market.
Gestation: Pregnancy, which lasts approximately 115 days.
Gilt: Any female pig that has yet to farrow her first litter. "Open" gilts have yet to be bred while "closed" gilts are pregnant.
Sow: Any female pig that has farrowed at least one litter.
Tethering: The use of a strap or metal chain to immobilise a sow in order for her piglets to suckle. May result in deep lacerations and infections to the udder since the sow is unable to take a break from nursing. (www.meatstinks.com)
I conclude that people treat pigs very cruelly and in so doing the human-being is threatening the trust that animals have given us. I believe that animals do have feelings and they deserve to be treated humanely . The human degrades himself when he doesn't use his intelligence and understanding when dealing with animals. When he consciously hurts and degrades an animal he is degrading himself. Maybe we should all become vegetarians
"Animal husbandry: pigs." Encarta '98 Multimedia Encyclopaedia, 1998, CD-ROM,
np.: Microsoft corp., 1997
"Factory Farming." Grolier Multimedia Encyclopaedia, nd., CD-ROM, np.: Grolier
Electronic Publishing, 1994
"Factory Farming-What It Really Is."
http://www.atbeach.com/veggie/articles/fac-farm.html 11/3/99.
"N.F.U. surprised at public hostility." Agscene, May/June, '83, 3-7
North, Richard. The Animals Report. Harmondsworth: Penguin books, 1983.
"Pig Cruelty Exposed: a P.E.T.A. Undercover Investigation" (and all the sights that
relate to this) http://www.meatstinks.com/pigcase.html 11/3/99.
"Pig." Encarta '98 Multimedia Encyclopaedia, 1998, CD-ROM, np.: Microsoft corp.
1997
"Pig." Grolier Multimedia Encyclopaedia, nd., CD-ROM, np.: Grolier Electronic
Publishing, 1994
By, Lee Andreae